With the topic "Asphalt paving with special requirements" Pontarius offers its expertise on paving for seaports and the special demands involved in paving of this vulnerable environment. The lecture, held by Niclas Bryngelsson, Senior Infrastructure Consultant with Pontarius, will be given from a total cost perspective.
"One of our most notable assignments has been the paving upgrade project we carried out for the Port of Gothenburg. Because of the results from this unique project, implemented in close cooperation with the contractors, the Asphalt Forum has asked us to share our experiences with the industry," Niclas Bryngelsson says.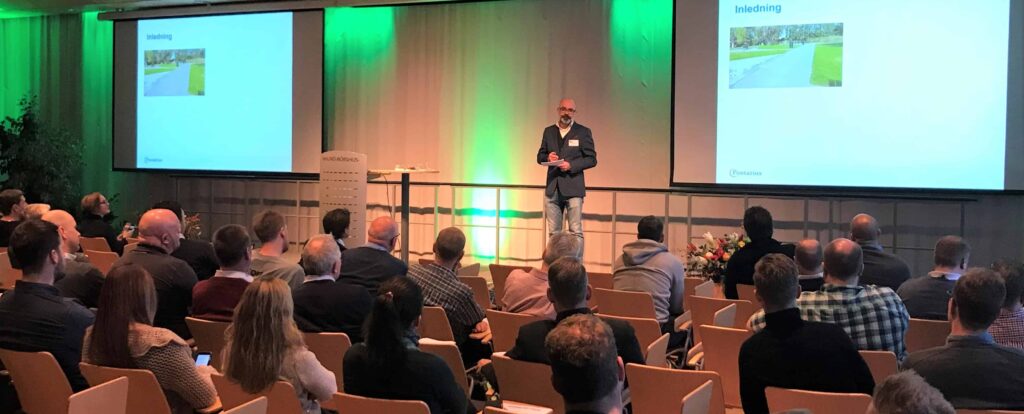 The Port of Gothenburg consists of 4 million square metres of impervious surface, which for a long time was maintained only when absolutely necessary, and with limited effort. Port management determined that this had resulted in poor utilisation of valuable port areas, and in unnecessary machinery wear and tear. When the area gradually became a risk to employees' health and safety, management decided to take the radical initiative to upgrade the paving of all port surfaces.
At this point, the Port initiated cooperation with Pontarius, which developed a dimensional model that could handle the high level of durability required by a seaport environment, both in terms of physical force and wear. The fact that the foundation of the port was partly built on a filled seabed also presented challenges for the superstructure.
"This project has been a success from the very beginning, largely since the Port of Gothenburg has taken a holistic approach to project costs by estimating the total cost over a ten-year period. This made it possible to focus on the long-term cost savings involved in the project to upgrade the paved surface. The process of product development, often a natural part of this unique type of project, was also encouraged. This enabled both us and the contractors to deliver and complete a leading-edge solution, even by international standards," Niclas Bryngelsson says.
The seaport project commenced in 2008 and final inspection was carried out in 2016. In this project, Pontarius was part of the steering committee, assisted in project management and construction management, and also handled inspection and work sampling.
____________________________________________
Asphalt Days is Swedish industry forum that draws approximately 500 people each year, many of whom are experts in the field of asphalt paving. This year's programme includes lectures on asphalt paving in municipalities, paving of pedestrian and cycling paths, a look at the United States and the quality control and documentation that applies there, and the unique asphalt paving upgrade project, of which Pontarius was a driving force.
Asphalt Days 2017 will take place in Malmö on 22 November and in Stockholm on 23 November. It is organised by the Asphalt Forum in cooperation with Swedish municipalities and county councils.
____________________________________________
>> See the entire programme here.